News Added At: 2017-01-26 05:09:15
After many years as an industry innovator and leader in the Remote Unlocking Industry...
GSM UNLOCKING has launched its own Remote Software Unlock service. GSM UNLOCKING has endeavors to move with the times and launched its own "Remote Software Unlock" project this Winter! This new remote software will be supported and updated by our techs on a regular basis to support the latest and most difficult to unlock cell phones and ensure that all you our dealers stay in complete control of future unlocking needs. With the new security and protection it becomes ever more challenging to unlock cell phones but with GSM UNLOCKING Team, you're guaranteed a top notch Live Tech on Instant Chat to help you with the process.
We've got great news for AT&T Samsung owners unhappy with their current contract and seeking a way out!
We've just released Samsung ALL MODELS FRP | SCLOUD REMOVAL Via REMOTE [Google | Account Removal S7|Note 4|S5|Ect.]
This important release of our software enables anybody to unlock by Remote Software & Cable supporting many models. At the moment this remote software unlock supports Samsung models, Huawei models, ZTE models, LG models, HTC Models, Boost Mobile GSM, Sprint Samsung models, Sprint LG models - quickly, easily, cost effectively and a live tech assisting you every step of the way. Supporting 280+ models [see list below]
This release will Remove the Google Account or sCloud Password of any Samsung Galaxy Including: S7 | S7 EDGE | TABLETS [are also supported]. Absolutely all versions, networks, and country are supported. Including the Samsung Galaxy S6 / S6 Edge with the "Android Device Unlock App". Turnaround time is instant, 24/7! No need to wait to receive your code! For Live Tech support assistance view operating hours here.
Technical Requirements :
– Computer running Windows 7, 8 or Newer,
– Micro USB Cable [Compatible or Original],
– GSM UNLOCKING Remote Software & Cable Unlock v1.0 for Windows,
– Samsung USB Driver for Windows.
GSM UNLOCKING Remote Software & Cable Unlock Tutorial:
1 – Enable Developer Options by following these guidelines:
a) Step 1: Go to "Apps" > "Settings" > "About Device"
b) Step 2: Tap Build number 7 times. until it says "You are now a developer"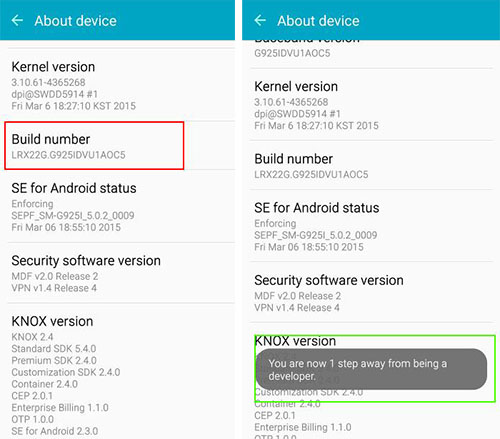 After tapping build number two or more times, the notifications will be shown on the screen telling you the progress:
After tapping the build number 7 times, you will be notified "You are now a developer".

You will now have an option under "Apps" > "Settings" called "Developer options" where you can enable or disable the "USB debugging" option.
2 – Enable USB Debugging, by opening "Settings" > "Developers Option" > "USB Debugging"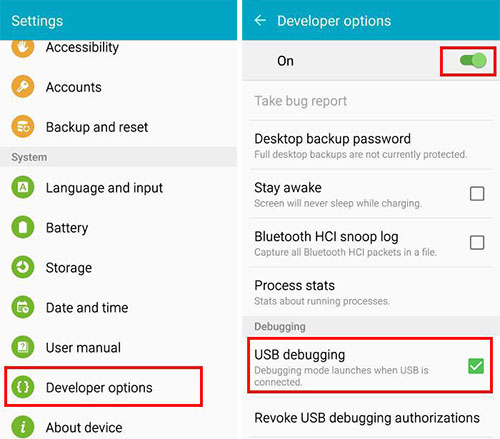 4 – Then install and launch "GSM UNLOCKING Remote Software & Cable Unlock v1.0"
5 – Then go to our Live Chat: http://unlockchat.co
6 – Enter the IP address to connect to [WILL BE PROVIDE BY TECH ON LIVE CHAT] "Connect"
To view listing of services visit: Software & Cable Unlocking
Troubleshooting & Frequently Asked Questions: Software Unlocking FAQ ?